Do you love helping people gain confidence, look and feel great and achieve success?
Have you a passion for fashion which you'd like to turn into a rewarding career?
Have you considered a career as an image and colour consultant?
Get the very best training and access to world-leading tools through the Academy of Professional Image.
Choose from either classroom or online training – whichever suits your needs.
The growth of makeover shows on TV has started a huge wave of interest in self improvement, so there has never been a better time to study as an image consultant or fashion stylist.
Having a personal stylist is no longer a luxury service exclusively for the rich and famous. Every day more and more people from all backgrounds see the benefits that a makeover can bring to their self confidence and success. Now more than ever before young and older women (and men) are actively looking for someone to help them with their personal transformation.
They may want to improve their career or business opportunities, they may be looking for new romance or they might be trying to change their dated image and improve their self esteem. Some people simply want to save money because they've wasted so much over the years on outfits which are wrong for their shape and colouring.
Whatever their underlying motivation, there's nothing more rewarding than helping someone with a personal transformation, I can tell you!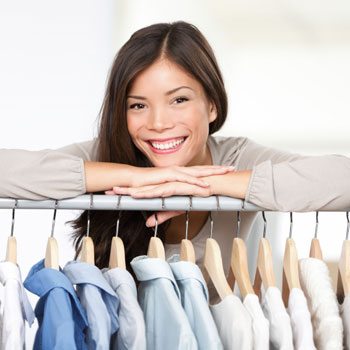 The course content is first class. Every concept is clearly and thoroughly explained. There is enough material in this program to help you start your business. You have ongoing  access to  Imogen long after you finish the course, and I guarantee you'll go back through the materials again and again — they're chock full and yes, they're that good.  Imogen's undying patience, openness, and availability is absolutely impressive.
It was the best decision I could possibly make and I urge you to take a big leap of faith and jump right in – you will not have any regrets.
Jo Shiers, The Style Adviser
How The Academy of Professional Image Can Help You Get Started
The best way to get started is to enrol in one of our image consultant training courses and acquire the right skills and knowledge to get your business off the ground.
We will teach you everything you need to know so that you can hit the ground running with your own business as an Image Consultant – or even work in the media as a magazine photo shoot stylist if you want to!
You'll learn the detailed principles and rules that form the foundation of styling for people of all sizes, shapes and colours. You'll also receive guidance setting up your business, marketing your business and extending your range of services beyond basic image consulting if you wish.
Click here to watch a webinar about our training and how we have become successful in this industry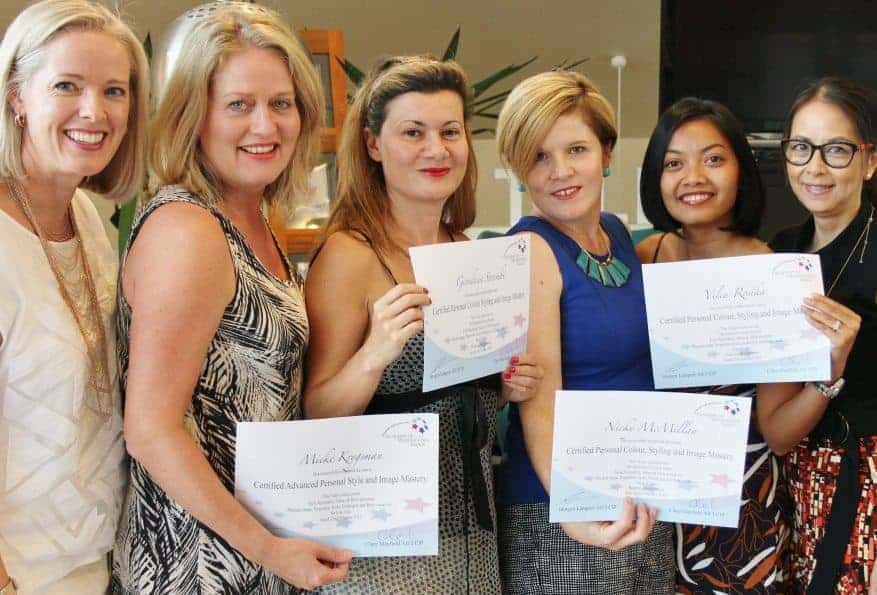 What Sets The Academy of Professional Image Apart From All The Others
Getting the right training and skill set is crucial to your future success. Our Principal Imogen Lamport AICI CIP combined have had more than 12 years experience in the industry and and is a past Presidents of the Australian Chapter of the Association of Image Consultants International (AICI) as well as a past member of the International Board  for the AICI.
However choosing an Image Consultant training school with extensive Image Consulting experience is not enough to guarantee your success. What really sets The Academy of Professional Image apart is:
Professionally accredited trainers – so you are taught by people with excellent teaching skills
No purchasing contracts – unlike other training institutions you're not locked into purchasing deals for the toolkits and products you need to start operating your business. We can provide what you need of course, but you are free to source your own materials.
Internationally certified – our primary course is internationally certified and is recognised by the AICI (Association of Image Consultants International) and you can earn AICI CEUs towards your international AICI Accreditation.
Try before you buy – we want you to be sure that this business is right for you, so we're giving you the first two style lessons for free plus a bonus colour lesson. Simply work through these lessons and if you're ready to continue, enrol in the training, either online or classroom and you're on your way to starting your new business. Can't be fairer than that can we!
Download the Course Outline 
Ongoing Support –monthly webinars, 12 month  mentoring program included in the course fee for once you've finished your training program, private Facebook group, In Style Membership program, AICI FLC Examination support and ongoing access to your to your trainers.
Money back guarantee* – If you do not earn the cost of your tuition back in two years we will refund you the difference
I have had the great pleasure of being trained as an image consultant by Imogen Lamport, and of still regularly receiving her generous instruction via monthly webinars.
 I chose training with Imogen after researching numerous image consultant training agencies, and concluding that her Academy of Professional Image had by far the most thorough and scientific approach to the whole issue of personal colour analysis. I was not surprised therefore, that Imogen herself was very thorough in her approach to training: she provides the student with an enormous amount of knowledge, well thought-out exercises and all the tools necessary to set up business as an image consultant.
I have met few teachers this willing to impart what know-how they have. Imogen truly aims to arm the student, the client, the blog reader, everyone really, with the knowledge they need to make a difference, whether it be in their personal wardrobe, their career opportunities or their business endeavours.
What To Do Now
Try us out by filling out the form and starting your free lessons.
Review the outlines of our two courses by clicking on the Course Details link at the top of this page. You can also download our Image Consultant/styling Course Outline and check out the extent of training you will receive. You'll be surprised by the wonderful value we give to our students. 
Visit our FAQs page to find out more. If the answer to your question is not there – simply send us an email or give us a call. Contact details are on the contacts link at the top of this page.
Commence your journey towards your dream of helping others and making money from your passion for fashion by registering online using our secure registration process. You'll be so glad you did.
* We guarantee that if you follow all the steps outlined in a timely manner set out our business development module and our 12 Month Mentoring program plus hone your technical image and colour skills learned during your training course,  that if you do not earn back the cost of your training we will refund you the difference.