Are your potential customers leaving your store without making a purchase?
Retail Edge Training
Do you feel as though your staff waste time trying to sell to people who just won't be convinced?
Do you hear your customers say "it just isn't me" or "it's not quite right" as they hand clothes back to you rather than walking out of your store having bought them?
Study to become a Retail Fashion Stylist.
This 4 day course will prepare you to become a fashion retail stylist.
You will study
Body Shapes
Clothing Personalities
Understanding Line & Design
6 colour groups for defining personal colouring
Creating a capsule wardrobe
Shopping motivators
Retail language
Body Language
Personal values
This course will cover everything that is instrumental in ensuring that you are confident and well equipped to work with and make solid recommendations to any person who enters your store or asks you to assist them with shopping purchases.
When you work in the clothing retail industry you are selling more than clothing. You're selling beauty, confidence and the chance to look like a million dollars for the first time in someone's life. It's so much more than just selling a dress or a top, isn't it?
You love to make a difference to the way a client looks and how she feels about herself and you work hard to offer her the right choices and variety of styles to choose from. But somehow it doesn't work as often as it should.
You're frustrated because no matter how long you and your staff spend with some clients they just don't seem to like what they see in the dressing room mirror so they leave without buying anything. You've spent ages with them and have nothing to show for it.
Even worse, the client walks into your competitors store and soon walks out swinging a shopping bag on her arm and with a big smile on her face.
What have they got that you don't have?
How long are you going to go on losing sales to your competitors? Why not do something about it?
Let me ask you…
If your staff could instantly tell which colours and clothing styles would suit your client, how many more sales would you make?
How happy would your clients be to see themselves transformed right there in your dressing rooms?
Your staff need all the tools possible to help your clients choose the best outfits, and to keep them coming back again and again to shop with you.
The best tool that you can give them is training in colour and style.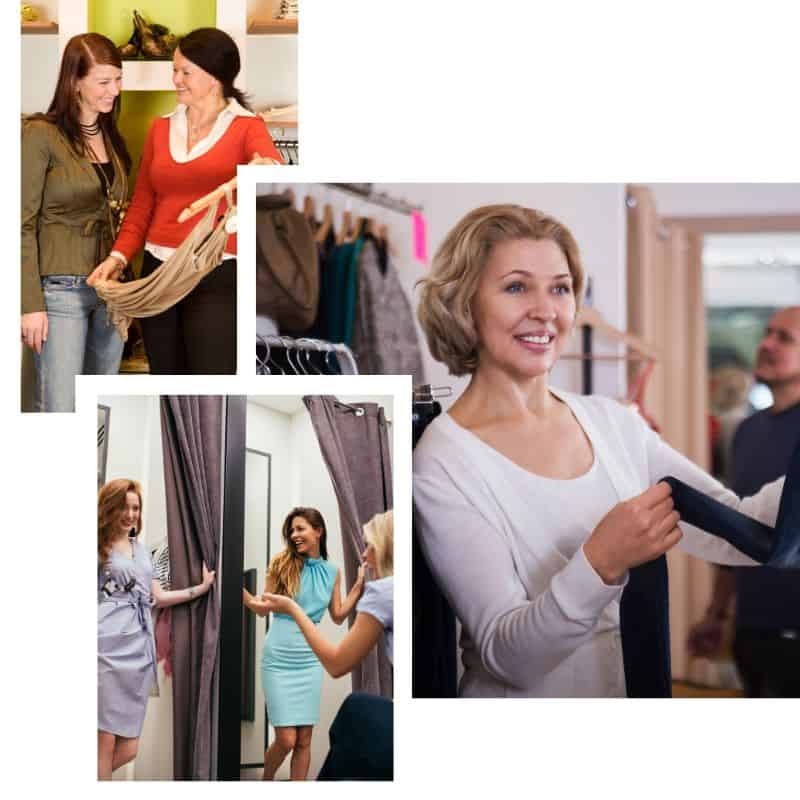 Colour and Style Training
During your Colour and Style Training, you and your staff will learn how:
To quickly identify the client's personal style
Easily choose the right colours to flatter the skin tone.
Easily select clothing to suit the client's body shape.
Show the customer how to wear each item to suit her style.
Choose accessories to suit each clients
Understand how MODULE ONE: Colour Theory and MODULE TWO: Colour Draping Practical works
Understand how colour affects people
Which colours work best together
Select the right colour accessories
A client's age affects the choice of colour
Identify a client's body shape
The line of an outfit changes body shape
Body proportions influence your choice of clothing styles
To talk to your client about their clothes
To put an outfit together
And much more……
Did you know that Buyers can also benefit from training in colour, line and design?
When buyers understand what to look for in a flattering and slimming outfit you can be certain that the clothes they buy for your retail outlets will move off the rack quickly.
Just imagine how pleased your clients will be if they can come to you and find the perfect outfit without the trauma of trying on things that just don't work.
Imagine how often they will come back to you, knowing that you will find them exactly the right thing every time.
When you and your staff know exactly what to look for and how to accentuate your clients best features, you will never again lose a sale to your competitor. Your clients will not only come back again and again for the advice that only you can give them, they will bring their friends, too.
Colour and style training for you and your staff will benefit your clients AND your sales figures.