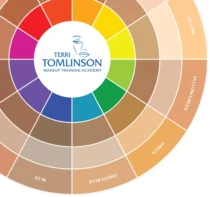 This is a great colour wheel to help you find the undertone of your client, plus gives you the inside on what colour concealer to use (red/green/violet/orange/yellow etc) for your clients when needing to do colour correction.
MAGIC PALETTE – COLOR MATCHING GUIDE
Great for explaining value contrast and ideal value to your client.
For more information on using this Colour Mixing Guide watch the video here.