Transform your passion for fashion, colour and style into a career
When You Get the Skills and Education You Need to Become The Best Personal Stylist
With internationally certified and award winning image consultant Imogen Lamport
 ENROL AND PAY BY 20 December 2023 5pm AEST to take advantage of our EARLY BIRD PRICES and secure your spot in the January 2024 Classroom Training.
When you acquire the education and skills you need to become an expert image consultant able to conduct personal colour analysis both online and virtually, and with the most comprehensive personal styling knowledge you will become confident and can use the skills to create the career or business of your dreams
You deserve to have the very best training, with the most innovative, inspiring, and informative course full of all the resources you really need to create your own fulfilling styling business
If you've been thinking that you'd LOVE to run a personal colour analysis and personal styling business but weren't sure where to start, then you've come to the right place.
If you've been helping your friends figure out what works in their wardrobe and taking them shopping and loved doing it, then maybe becoming an image consultant is your right next move.
Have you worked fashion retail, loved helping people but weren't sure exactly what would really work for each person and would love to know more?
Do you feel unfulfilled with your current job, and have dreamed about starting a styling business?
It's time to stop wishing and start your training so you can turn your passion into a career.
You deserve to do what you love and help people who value what you have to offer, you just need the right training to give you the proven skills so you know exactly what to do, even when your clients are nothing like you.
Learn more than the basics so you can be the very best…
You want to feel confident to be able to work with every clients, no matter how different they are from you.
Imagine getting feedback from your clients who tell you how much they value what you do for them, as they gain self-esteem from the work you do with them.
Being able to understand each client's needs and personality so that you can help them shine from the inside out so they have more confidence.
Get support as you learn with video feedback and group coaching calls (plus our comprehensive library of past mentoring calls).
Do something you love that makes a positive difference in the world as you help others to become their very best.
Do something that lights you up inside!
With the right skills and education and the drive to make things happen you too can build your own successful personal styling and personal colour analysis business.  When you put your mind, passion and energy into what you are excited to do, you can make a success as not only will you get the education and knowledge from our training courses, you'll also get the follow up mentoring you need to take what you learn and create a business.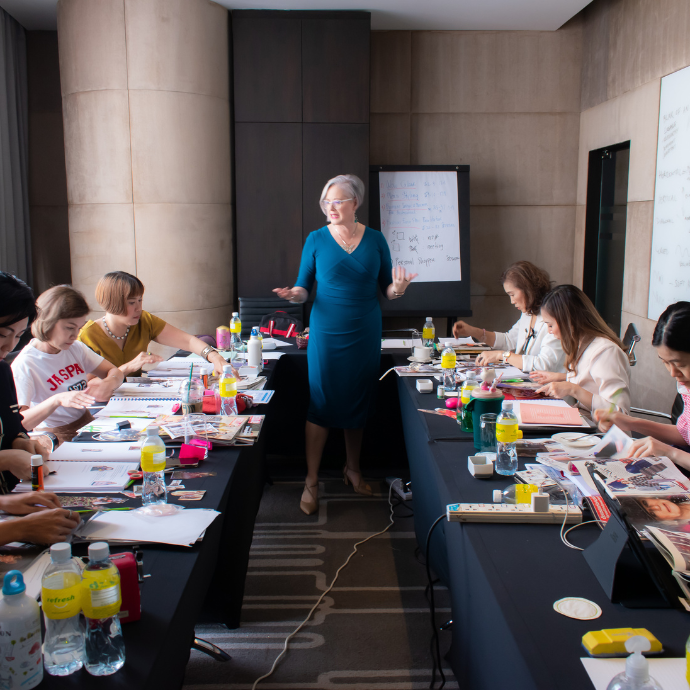 Hi, I'm Imogen
And I've been working as a personal stylist, image, and colour consultant for almost 20 years!
Plus I've also been training other aspiring image consultants and personal stylists so they can turn their passion into a successful styling business since 2006.
I don't hold back in sharing everything I've learned since I started to help others also achieve their dreams.
I share all my experience, my insider tips and techniques, and strategies that I've learned so that you can take the fast-track to success.
I'm passionate about making the image industry more professional and have served on both the Australian and International Boards of the Association of Image Consultants International, the peak professional body for image consultants and personal stylists.
When You Join the Academy of Professional Image Training Programs
Here's What You Can Expect:
The most comprehensive training programs that are broken down into bite-size modules that take you from novice to professional personal stylist and image consultant.
We teach you both the basics plus the more advance concepts so you are fully qualified once you complete your training and don't need to keep taking more training courses to feel confident.
Proven strategies to understand every client, no matter how different they are from you.
Access to the most innovative and modern colour system in the world, the Absolute Colour System of 18 colour directions that work with all skin-tones and colouring.
Both In-person colour drapes and swatches as well as virtual ones so you can work with clients anywhere in the world, included at no extra charge.
Training that makes you the expert, you don't have to rely on someone else's computer program to give your clients the answers.
A community of other stylists from around the world on the same journey as you.
A private Slack channel to get your most pressing questions answered and learn from others.
So much more!
Academy of Professional Image Classroom Image Consultant Training Program
It's internationally accredited by the Association of Image Consultants International – the peak professional body for image consultants and personal stylists globally.
This classroom training program is designed to give you the knowledge and education you need to build your skills so you become confident so you can create an exciting career in the image industry, whether it's in fashion, retail or your own personal styling business.
Graduate Testimonials
"Imogen offers the most comprehensive training in Australia and the Asia Pacific. I cannot recommend her training highly enough. If you are thinking about becoming a stylist or image consultant then please get in touch with Imogen. I trained with her over ten years ago. She is the best. "
Jo Hodgest
"If you're considering colour and style training with Imogen at the Academy of Professional Image I highly recommend it! 
Imogen generously shares her knowledge and expertise ensuring that every topic is covered in great detail. Her training style is relaxed and she injects stories of experiences with past clients to make the information real and relatable. The training manuals are very thorough and they're a great reference resource after training has finished. Also, if there's a concept you're finding difficult to grasp, Imogen is always willing to spend additional time to help you understand.
I researched so many image colour and style training companies before choosing the Academy of Professional Image. My decision was based on the comprehensive syllabus and Imogen's reputation within the global image consulting industry (AICI).
Imogen has been a great support to me since training, and her ongoing guidance and mentorship is second to none."
Ann Vodicka
"I completed the Certified Advanced Personal Colour Analysis and Certified Personal Stylist and Image Mastery for Women and Men classroom training courses and got soooo much value out it. The knowledge I learned throughout these courses far exceeded my expectations. It really helped me in the running of my own Image Consulting business.
Imogen was wonderful, so passionate and was so happy to share all her knowledge, experiences and love of colour, style and people. 
I will definitely be referring the Academy of Professional Image to others."
Emma Willman
Click on the Programs Below to Start Now!
Bundle and Save!
When you sign up to do both Colour and Style you get Business Development absolutely FREE!
All classroom training INCLUDES our 12 month mentoring program so that you have the assistance and guidance you need to ensure that you take what you've learned and put it into action. It also includes access to the ONLINE version so that you can refresh your training at any time.
 ENROL AND PAY BY 20 December 2023 5pm AEST to take advantage of our EARLY BIRD PRICES and secure your spot in the January 2024 Classroom Training.
Want more information?  Download our course outline here
Try before you buy, get your first 2 style lessons free plus bonus Colour Theory webinar – sign up here.
Got Questions?
Want to know if our training is the right fit for you?
Send us an email and we can answer your questions or make a time to Zoom with Imogen so you can get all your questions answered in person.
This is a no-pressure opportunity to make sure this is the right path for you.

Can't Attend the Training in January 2024?
Sign up to be notified when classroom training is open again.
We don't want you to miss this amazing opportunity so join the waitlist
now and we'll be sure to send you an email when the doors are open again.