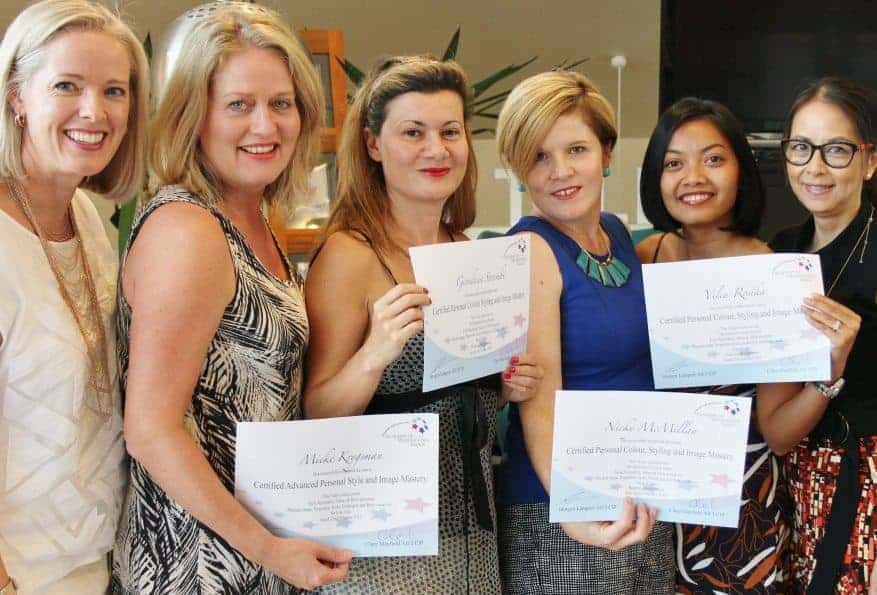 Graduates of the Advanced Certified Personal Stylist, Colour and Image Mastery Training Program
I completed the full AoPI Image Consultant training program in late 2012 with Imogen. Imogen provides a friendly learning environment that encourages interactive student participation. Coupled with comprehensive training manuals, AoPI provides very relevant hands-on, and practical training and assessment, both in the classroom and in-the-field. Frequent application of theory with exercises ensures learning is understood, reinforced and makes learning outcomes measurable and enjoyable.
Her passion and commitment to the ongoing success of AoPI graduates is evident in the business development training and ongoing mentoring provided. I found Imogen's diverse range of experiences enlightening when discussing the non-technical aspects of image consulting. I thoroughly enjoyed my training and learnt a lot about myself personally in the process.
Caleela McEniery, Outstanding Image
"I really enjoyed the online and then classroom practical training with Imogen and learning from her.  She is such a happy, passionate, down-to-earth, knowledgeable, intelligent and generous person.
Imogen never stops learning and loves sharing her insights, discoveries and revelations with others.
I came away from training feeling inspired and encouraged because I saw how Imogen sincerely manages to reveal a woman's innate and unique beauty through her colour and style message."
Leanne Laboo
In April 2013 I attended a six day course in Certified Advanced Personal Colour Analysis run by Imogen Lamport from the Academy of Professional Image. This course was the best learning experience I have ever had. Imogen is a highly professional person and passionate about her role as an instructor and mentor. She provided a positive environment, well prepared materials and a well sequenced series of theoretical and practical experiences which enabled me to gain knowledge, understanding and confidence in colour psychology, colour theory and personal colour analysis. Learning in the environment that Imogen provided was fun, supportive, motivating and very practical.
It wasn't just a six day course, as Imogen provides ongoing activities, advice and mentoring as I begin to establish my own business. I feel very privileged to have had the opportunity to study colour with Imogen – she is so happy to share her knowledge, experiences and love of colour and people. 
I would highly recommend this course to anyone interested in pursuing knowledge in this area.
Thank you Imogen  for being there as I start a new direction in my professional life.
Kim Williams
I had been working as a Personal Stylist for a few years when I decided to train as an Image and Colour Consultant.  I was very fortunate to have done my personal stylist training with one of – if not the most successful personal stylist in Australia at the time.  For quite a while I had been thinking about going back to "school" and doing some intensive training  simply because I was ready to build on the skills and knowledge that I already had as a personal stylist. I wanted to be able to offer a full range of products and services to my clients. It was very important to me that I found a course that was run by someone who shared the same values, ethics and integrity as me and I certainly found that and more with Imogen.
 The course content is first class. Every concept is clearly and thoroughly explained. There is enough material in this program to help you start your business. You have ongoing  access to Imogen long after you finish the course, and I guarantee you'll go back through the materials again and again — they're chock full and yes, they're that good.  Her undying patience, openness, and availability is absolutely impressive.  
The women on my course were like no other I've been a part of. They were kind, giving, generous, non-competitive, supportive, thoughtful and… I could keep going.  I have never ever been a part of a group of women who are all ambitious yet simultaneously caring and non-competitive.   Twelve months on and I'm still in contact with some of my group (half of the group were from interstate) and we catch up on a regular basis and are members of the local chapter of AICI. Imogen is my go-to person whenever I have a business question. She's amazing!
If you're clear or even mostly clear that you want to be an Image and Colour Consultant, you are primed to take advantage of what Imogen teach in this course.  Seriously, I did a lot research on AOIP before I committed to signing – after all it is a lot of money.  I spoke to three past students who are all now successful image consultants and they could not rave enough about the course and the support they continue to benefit from and after speaking with them I was so excited and enthusiastic I signed up the next day. 
It was the best decision I could possibly make and I urge you to take a big leap of faith and jump right in – you will not have any regrets.
Jo Shiers, The Style Advisor
"If you're considering colour and style training with Imogen at the Academy of Professional Image I highly recommend it! 
Imogen generously shares her knowledge and expertise ensuring that every topic is covered in great detail. Her training style is relaxed and she injects stories of experiences with past clients to make the information real and relatable. The training manuals are very thorough and they're a great reference resource after training has finished. Also, if there's a concept you're finding difficult to grasp, Imogen is always willing to spend additional time to help you understand.
I researched so many image colour and style training companies before choosing the Academy of Professional Image. My decision was based on the comprehensive syllabus and Imogen's reputation within the global image consulting industry (AICI).
Imogen has been a great support to me since training, and her ongoing guidance and mentorship is second to none."
Ann Vodicka, Image Confidence
I was very happy the Academy of Professional Image offer the option of online draping as well as online colour theory.
I believe your system of 18 colour directions is the best one and your training manuals and videos, draping tools and swatches are really great.
The online draping training gave me (even at a distance) more that any training I could possible get in my country.Imogen does the training on very very high level, because she is the biggest expert in the field.
I don't even see the difference between online training and classroom trainings as we had one-to-one sessions via video-conference, which is a big advantage. I recommend to others take your online theory plus practical colour and style training. All the people who have been draped by me were excited by the Absolute Colour System as it's the best and gives the most accurate results.
I also feel really confident now in doing draping. I would not have succeeded in doing personal colour analysis without Imogen's training and advice.
JANA HEJMALOVÁ , PERFECKTNÍ STYL
I attended Academy of Professional Image's Certified Advanced Personal Colour Analysis and Certified Personal Stylist and Image Mastery Women and Men training courses. Imogen Lamport is the presenters and her distinct personality style was extremely beneficial as it taught me how to relate to a broader spectrum-of clients with different personality styles. She was extremely engaging and made the jam-packed courses thoroughly enjoyable. She was also very generous with the encyclopedic knowledge of colour and style. The training materials were highly detailed and contained plenty of examples to aid understanding of the concepts taught.
Tessa Spivak
If you are thinking about doing image consultant training, this Personal Shopping workshop is a perfect introduction to the many and varied aspects of image consulting that you will cover comprehensively in the full training course.
Reen Nilsson
Just wanted to write and let you know how valuable I found the Academy of Professional Image's online colour course. The content of each lesson was extensive and covered many areas of colour that I hadn't previously thought about. I found the assignments very useful and practical. Having to put together images representing different colour concepts really cemented the information in my mind.  Completing the online colour course gave me the indepth background I needed before attending the 3 day colour practical. I feel my learning in the practical session was better because I had the chance to cover the theory component so well in the online course.
I also really valued being able to complete the course online, having 2 small children at home meant that extended stays away from home were not possible. The online courses were a perfect option for me. Thank you for designing these courses and sharing your extensive knowledge.
Sue-Ann Mallen